The produce at Mgarr Mushrooms is prepared on an all-natural compost bed that lies upon a hay packing required for a healthy and nutritious growth cycle. These two layers are placed onto a breathable net that is washed, re-washed and reused for minimum waste in the growing process. The 3 layers are kept within a humidity and temperature controlled environment until the spores start doing their thing and tiny white or brown caps appear to sprout from the nutrient rich compost. Some grow rooms even reach humidity levels of 94% and temperature levels of approximately 20 degrees.
You might have noticed that hygiene and cleanliness is a big part of the mushroom business, and if you caught up on that little fact and doubted it for a second, you wouldn't be the first one to do so. Second generation mushroom-eer Riana spoke about her love for the industry and the misconceptions that come along with the job.
"We do what we do because we love it. Working with live natural produce is one of the biggest perks. We understand that many people associate mushrooms with an unsanitary environment, seeing as they thrive in the growth of manure, but the reality can't be further from that. Every inch of our premises is cleaned and re-cleaned on a daily basis; we're quite adamant about that. When people visit our mushroom farm they're quite surprised at what they find and what they see around them - this always makes us happy."
Mushrooms are living things and therefore prone to infection; so keeping parasites at bay is a big part of the job - especially when you're running a zero pesticide facility. In fact all outbreaks of infection are killed off with a salt cure that eradicates all pesky intruders in the fungi's surroundings. No nasties, just natural salt. That's right, the fungi at Mgarr Mushrooms are pesticide-free and completely natural. So apart from the fact that they are making sure to reuse their netting, their packaging solutions and prepare each order with a hand-picked, hand-trimmed quality check they're also making sure that their 'waste' is in no way harmful to the environment. In fact their compost does not contain any nitrates whatsoever, meaning that it does not damage Malta's water bed when it's sold as a natural soil conditioner to local farmers to help nourish future crops such as cauliflower, promoting that natural white glow! Talk about a circular and environmentally conscious economy.
The 3 growth cycles at Mgarr Mushrooms all deliver a wonderful display of nature at its best, albeit temperature controlled and humidity regulated with filtration setups and watering systems installed for ultimate quality assurance, these naturally grown mushrooms bring a variety of produce that make every kitchen complete. From the first and strongest growth that is packed with water, firm to the touch and crunchy enough to eat raw in a salad or pickled as a garnish, to the second growth resulting in thinner stalks and exposed gills, ideal for richer flavoured soups and stocks and finally the third growth cycle that presents the thinnest stalk of all and the perfect ingredient for a restaurant looking for an elegant display of umami-richness with a turgid cap and palatable stalk to captivate the eye as well as the palette.
Whether it's a brown mushroom or a white mushroom, a Portobello or a button, the produce at Mgarr Mushrooms surpasses all expectations - allowing the consumer to fully appreciate the value of local mushrooms in taste, quality and family-value.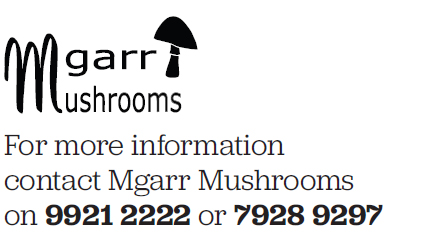 Click here to see Horeca Issue 7 online