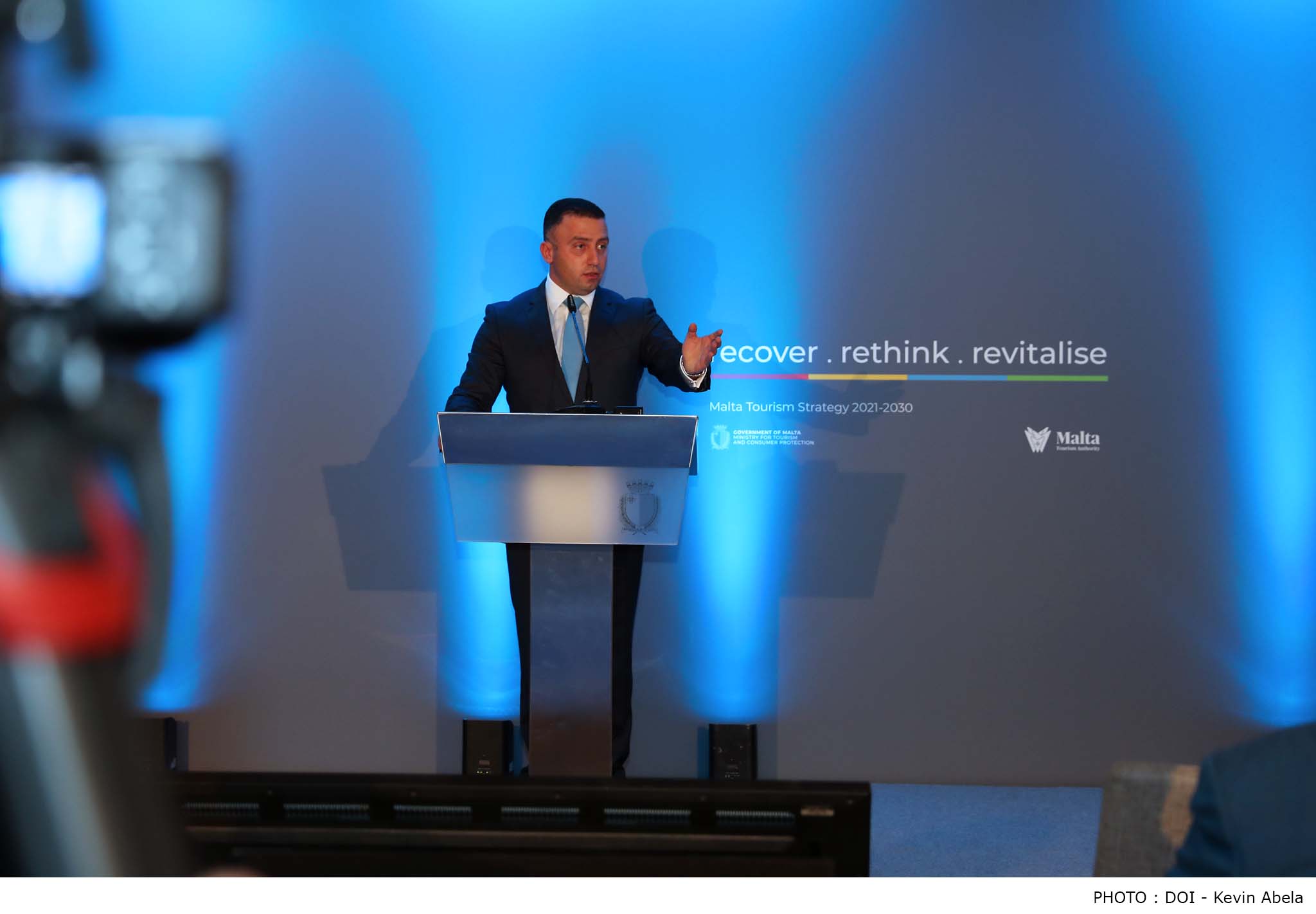 Added:  4 December, 2021
After 11 months of public consultation with all sectors involved in hospitality and tourism, the Malta Tourism Authority has launched the Malta Tourism Strategy until 2030.
With the theme of Recover.Rethink.Revitalise, this strategy will be divided into 22 more targeted strategies which, through a long-term plan, will achieve 125 goals. These objectives should be reflected in 145 actions for Maltese tourism to recover and be sustainable.  This strategy will be based on the principles of quality, sustainability, tourism experience, connectivity efficiency, housing development management, human resource challenges, branding, digitization, and significantly, the inclusion of Gozo as a distinct destination.
To ensure the implementation of this document, the Malta Tourism Observatory will be set up consisting of representatives from the Ministry for Tourism and Consumer Protection and the Malta Tourism Authority.
These details were announced at a press conference addressed by the Minister for Tourism and Consumer Protection Clayton Bartolo in the presence of the Chairperson of the Malta Tourism Authority Gavin Gulia and the Deputy Chairperson Leslie Vella.
Minister for Tourism and Consumer Protection Clayton Bartolo said that various aspects of the strategy have already been implemented through the recovery plan launched in March this year.
"Chronologically, our goal will be to bring the volumes needed to bring tourism activity back to acceptable levels in terms of operation and profitability as soon as possible. However, during the recovery we will see the start of a thought process with the aim of strengthening our tourism product and moving towards new horizons for the next ten years ", stressed the Minister Clayton Bartolo.
He added that this strategy will be a contract with people who have always looked at hospitality as a profound aspect of Maltese culture.
"Our vision is for Malta to be a center of tourism excellence. This is an ambitious goal, but we have no doubt that together we will be able to make it a reality ", concluded Minister Clayton Bartolo.
For his part, the Chairperson of the Malta Tourism Authority Gavin Gulia said that what was started last January led us to this very important day at a crucial moment, where now this strategy is being launched in its entirety.  "This is a holistic strategy, encompassing various aspects of the Maltese tourism sector, a number of niches that are part of this sector, but above all it should lead this sector to where we want it, inspired by the three pillars of Recover.Rethink. Revitalize. ", Concluded Gavin Gulia.
Meanwhile, the Deputy Chairperson of the Malta Tourism Authority Leslie Vella said that the pandemic has highlighted the importance that tourism carries with it in the Maltese economy.
The full document can be downloaded via this link.