Let's take a journey together. A time travel one. We somehow magically zoom out of our present time and revisit Valletta some 40 years ago.
Suddenly, the vibrancy of a city is all zonked out, with Valletta sounding and seeming like a ghost town.
The time travel bit is the exaggeration. That Valletta was dead, or somnolent, and lacked vibrancy is true. It's amazing what transformation Valletta, this wondrous gem of a fortified city, has gone through.
Today Valletta is a true mecca of entertainment, fabulous food and quality accommodation. If we were to still be touring the recent past, there was hardly a hotel in the whole of Valletta; bar The Phoenicia which is actually outside the capital city. To enjoy a good meal there were a few, unbelievably few, restaurants. Even getting a coffee was tough going and, after seven in the evening, you had to enlist the services of a detective to help source it.
Valletta of a few decades ago was rapidly becoming deserted, despondent, desolate. It wasn't hip to be there, felt rather squalid, abandoned properties everywhere which were impossible to flog. Businesses were moving out, professionals seeking new corporate locations.
It took courage, vision and a load of planning to revive Valletta. The tourism boom helped. The young discovered Valletta as a residency boon; cheap places were easy to find. Other young people not living in Valletta also flocked to the few bars and eating outlets available. Money, both public and private, was pumped into Valletta's slow but steady regeneration.
Then the Renzo Piano Project happened and revitalised Valletta's entrance and the vicinity from its old gruesomeness to a nobility worthy of a city of such fame and beauty.
It all gave Valletta a new status, a new scintillating feel. And all involved in this new look Valletta, or rather in the sprucing up to vitality of the city, breathed a sigh of relief. The crowds, wooed by the pizzazz of the capital, thronged back to live there, to stay there for short breaks, to eat, drink and participate in the metropolitan lifestyle.
The authorities had kick-started the new-look-Valletta. They had successfully carried out a wholesome job. Then they rested and let Valletta flourish in all things gastronomic and living. They let it all gush on, to grow extensively, to become a true and palpable success. Suddenly people felt good being associated with Valletta. It lost its ghostliness, its harshness, its decadence. It now became all glitzy. Old palazzos which had been left bereft of life now found themselves revitalised, turned into hotels, eateries, fancy accommodation and new offices and residences.
But of everything that happened to Valletta, possibly the biggest turnaround – and this spurred on a change even nationwide – was in gastronomy. The food offering in these last years has become a veritable feast, with a mix of restaurants deservingly reaching the heights and stardom MICHELIN wields.
Young Chefs, older ones, both local and foreign, vie with each other to add more attractive, appetising, adventurous fare to the tables of the capital's restaurants. Food that was bland to look at, taste, smell and feel has now evolved into a culinary experience which is memorable for the right reasons.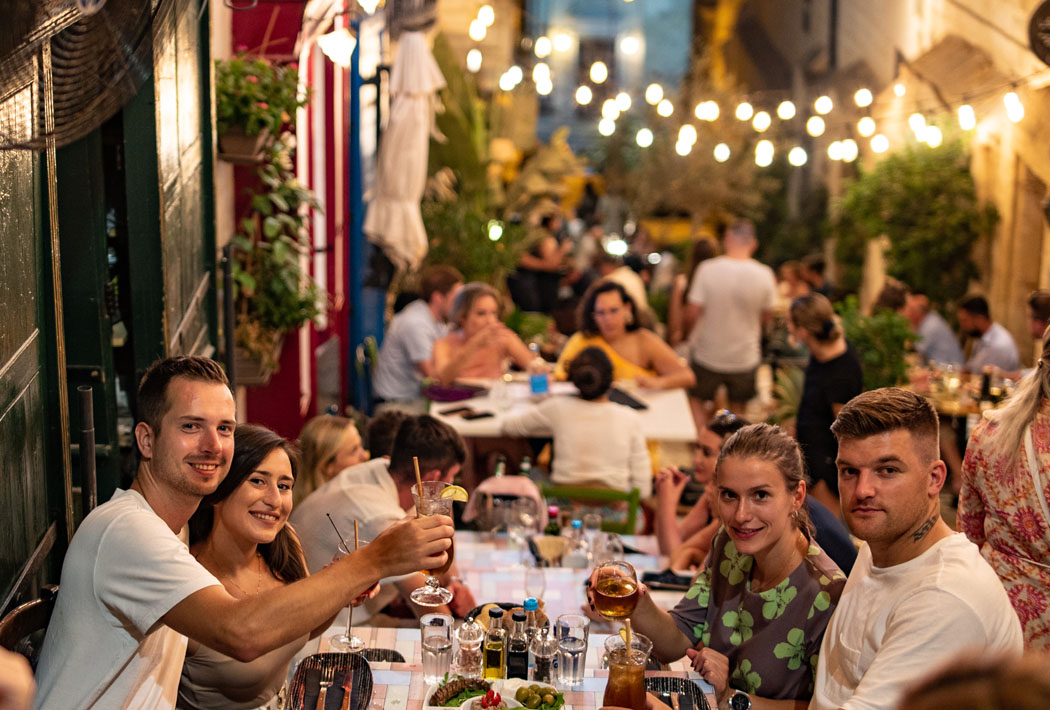 And the change in some top places is not just in their food and drink. It is also the décor, the ambience, the whole package, that has made a visit to choice restaurants and hotels a feast for the senses.
Malta now has a capital city that can be proud of what it offers the discerning locals and travellers.
Where, however, are we going from here? Have we prepared proper projects for Valletta and its sustainability? Has a plan for Valletta and its future been discussed, let alone implemented?
Sustainability hardly features if all is left to chance, to growth at all costs, unbridled, unprojected. If the only definition of sustainability is economic well-being then the whole strategy is slightly short-sighted and could have long-term problems.
Besides being beautiful, Valletta is beautifully vibrant now with a heaving feel that is evident in all major cities. But Valletta is small and all of it has become a heaving, throbbing centre. Residents and visitors to the city living in its hotels or in any of the accommodation offerings need space, some quiet, some more streets and squares where they can walk in relative peace.
Valletta is blessed with some of the best restaurants in Malta and a cursory look at the MICHELIN stars awarded is enough of a testament of this. Like all cities, the place also needs the less sophisticated places, the pizza joints, the burger parlours, the booming bars, the pasta places, the cafés offering cheap and cheerful stuff. But ideally there should be some form of control over what is happening in the streets of the capital. As with all good things in Malta, we have let success be our own worst enemy. Valletta is now on the verge of overdoing its noise levels and its streets are overflowing with ever-growing crowds in the evening and at night.
A city lives and breathes not just because of the gastronomy and tourism. The residents living in the city are one of the most vital elements of a city's life support. So there has to be a good mix of what entertainment venues desire to keep their cash tills chirping, while allowing the people of Valletta to live in peace.
If more direction is given, if more street policies are put into force and seating outside entertainment places is kept to a minimum, initially profits might seem to be adversely affected but they will render a better long-term return. Ruining the value of Valletta might ruin or lessen future takings, so isn't it more feasible to get all the stakeholders round a table to discuss a master plan for Valletta?
Over 400 years ago a city was planned from scratch. It was designed as a grid with streets and buildings perfectly projected. It was a magnificent concept, put into action, and the result – which we can still enjoy today – is what Valletta is, a beautiful city, masterfully planned. If the Knights of Malta planned the building of Valletta so well, can't we, with all our new technology, come up with a plan which will ensure the ongoing success of the vibrancy of this magnificent city?
Planning, if done properly, if done with proper care and understanding of all involved, is a boon in all we do. Let's enjoy Valletta and all it has to offer not just today and tomorrow but also at the same high level if we had to visit the capital city in 40 years' time.