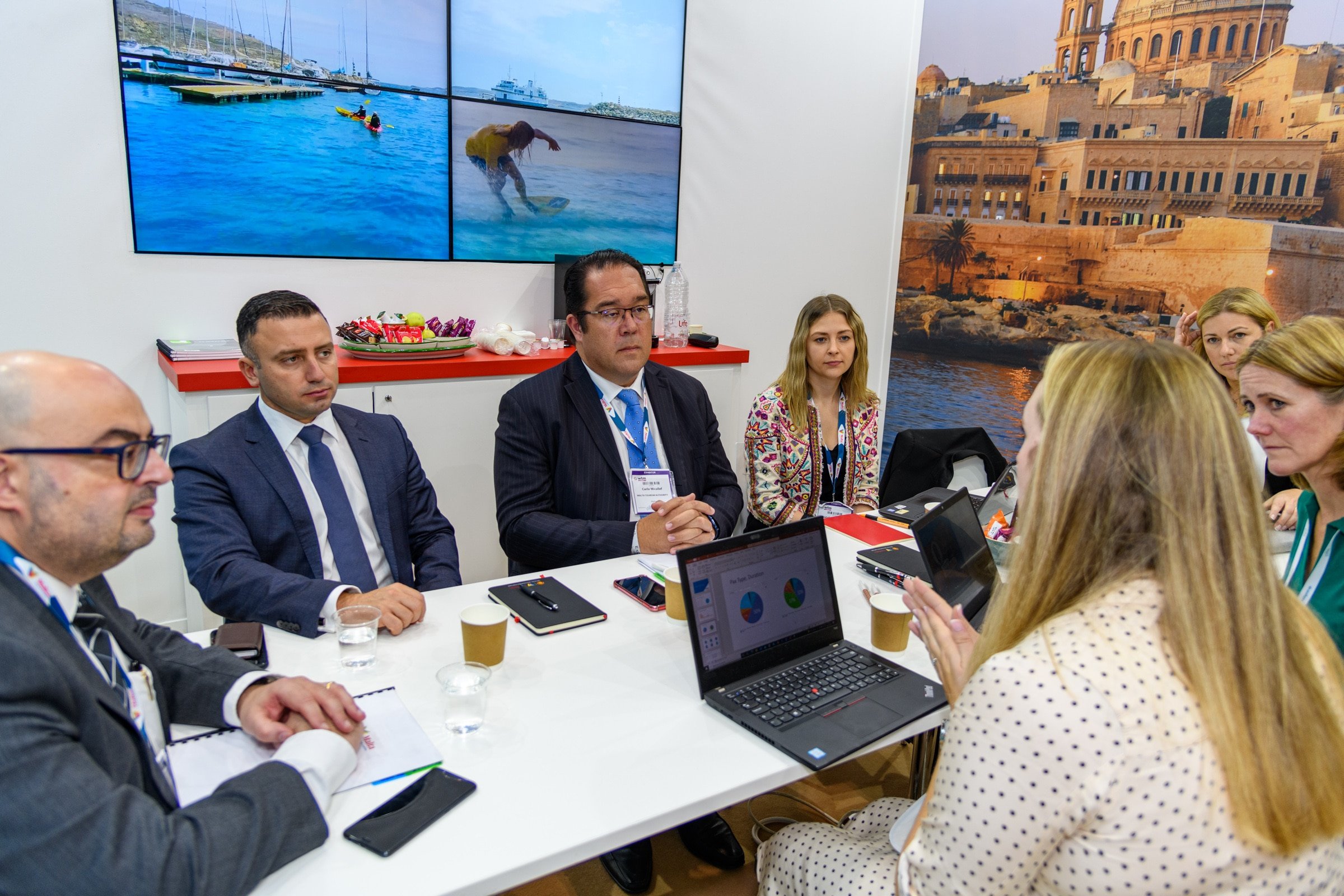 Added:  8 November, 2021
After an absence of a year due to the COVID-19 pandemic, VisitMalta participated in the 2021 Edition of the World Travel Market, which was held last week in London.
WTM has long been known as the meeting place for the global travel trade, and home to the ideas and connections that shape travel. But in 2021, its role in connecting, directing and inspiring travel businesses matters like never before. Because this year, WTM London has provided the moment when the industry could, in fact, take off again.
With over 1,000 exhibitors this year's edition was long overdue, albeit the number of exhibitors and the dynamics were watered down with various countries still observing strict border control to curb the spread of the pandemic.
Over the course of the three days, the Malta Stand was buzzing with activity as travel agents, tour operators, bloggers, content creators and destination management companies took their time to meet with representatives from the Malta Tourism Authority's Head Office as well as with the staff at the UK Office, under the direction of Ms Tolene van der Merwe, to truly find out just why there is more to explore, when one chooses to travel to Malta in the coming weeks and months.
"The World Travel Market was another sterling opportunity for the Malta Tourism Authority to showcase Malta's tourism industry on the international stage. The pandemic brought with it challenges that are rapidly being turned into opportunities through various incentives and projects targeted to offer the necessary tools for our local hospitality industry to recover and prosper. As we continue our road towards normality we remain committed to turn Malta into a hub of tourism excellence for the years to come. The goal to achieve this vision is an ambitious one, but together we can make it happen," outlined Minister for Tourism and Consumer Protection Clayton Bartolo.
"This was an opportunity for us to put Malta back on the map out there, after quite a successful recovery period, and following the encouraging numbers which we observed in September and October. Thanks to impeccable work carried out by the Marketing Department in Malta and our UK Office we managed to pull this off, and send out a statement that Malta is indeed open for business. The level of interest in the Maltese product was encouraging, and gave us the right dose of encouragement to move forward and look towards 2022 with great positivity," Mr Johann Buttigieg, CEO of the Malta Tourism Authority said.
"Whilst a very different World Travel Market, a number of key meetings were held with trade partners. There is a strong positivity in the market for 2022 and beyond and I feel that the road to recovery will benefit even more from having participated in the WTM," Ms Tolene Van Der Merwe, Director of the VisitMalta UK Office added.
WTM continues this week with virtual meetings, in which VisitMalta will also be actively involved.