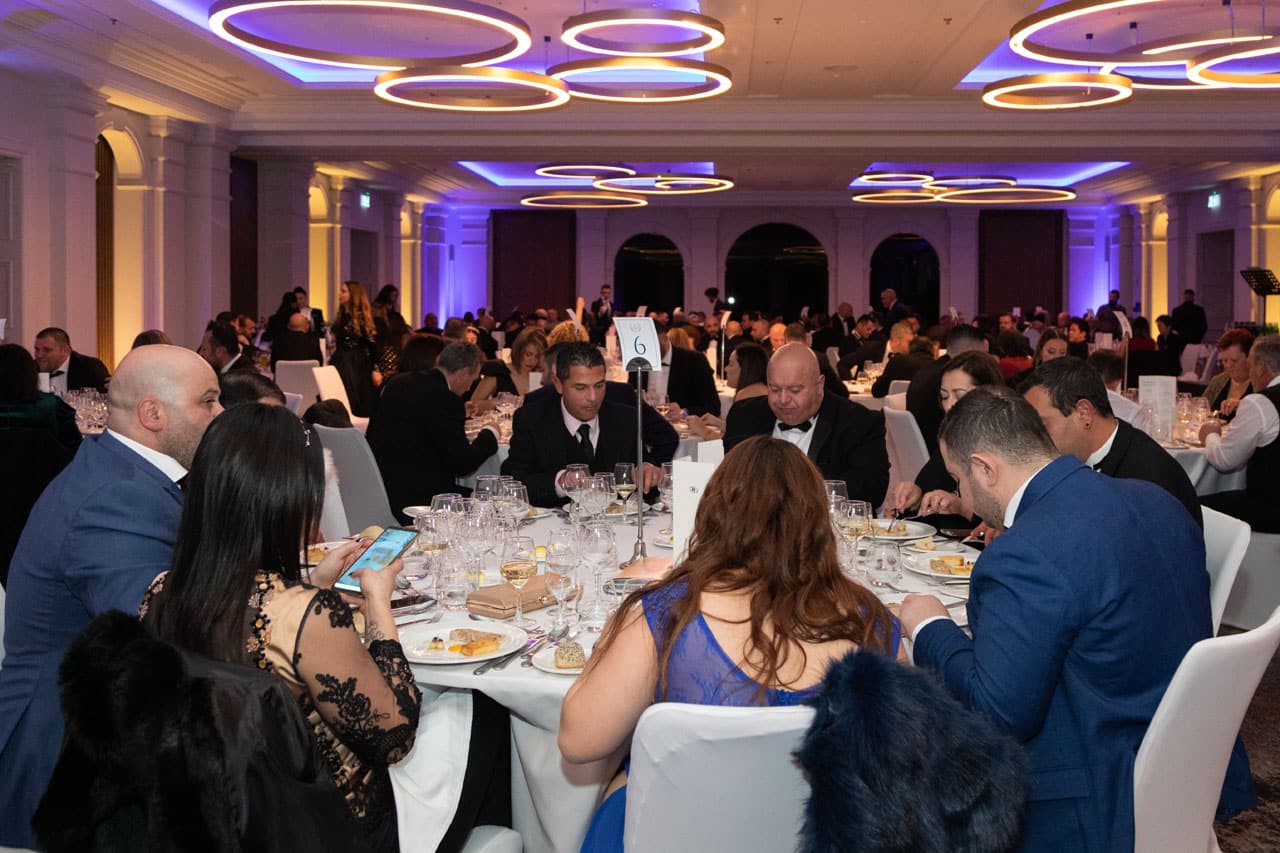 General view of assembled guests at the Portomaso Suite – Hilton Malta.
The 9th annual WRMC Restaurants Quality Recognition Awards Gala Dinner and Awards Ceremony took place at the Portomaso Suite at the Hilton Malta in January 2023 after a three-year absence due to COVID-19 restrictions. The event celebrated Malta's and Gozo's top chefs, restaurant managers, restaurateurs, and hoteliers, who impressed WRMC inspectors and adjudicators over the past two years.
The event attracted 60 of Malta's and Gozo's top restaurants and hotels, with 250 attendees, including staff, guests, and sponsors. The WRMC Silver Spoon, Blue Riband, and Special Concept Awards have gained recognition as international awards equivalent to those bestowed by national awarding bodies.

The Award Categories
The WRMC Two Silver Spoon Awards for consistently outstanding cuisine quality, preparation, presentation and value commensurate with World Class Service, Management and Ambience.
59 Republic Restaurant, Valletta.
Surf N'Turf Restaurant, Qawra.
Venus Restaurant, Bugibba.
TemptAsian Restaurant, The Palace Hotel, Sliema.
Caviar & Bull Restaurant, St Julian's.
The WRMC One Silver Spoon Retention Awards
The WRMC One Silver Spoon
The Top 30 Blue Riband
The Top 10 Special Concept
The Top 4 Sunday Buffet Lunch Venues
Special individual awards to:
WRMC 2023 Top Chef: Chef Maria Sammut, 59 Republic Restaurant, Valletta.
WRMC 2023 Best New Restaurant for Cuisine and Service: Mare Bello Restaurant, Marsaxlokk;
Award for Hospitality and Food Service: Taninu Bistro, Marsascala
Top Foreign Chef: Chef Salvo Pavone, Sabbagata Gourmet Restaurant, St Julian's,
Hall of Fame: WRMC Classic Chef Lifetime Achievement Award: Chef Raymond Fauzza.
For the full list of awarded restaurants readers are invited to log-in and check out the WRMC –Malta 2023 Restaurant Guide on the following link:
https://winesandrestaurantsofmalta.com/restaurants-guide/