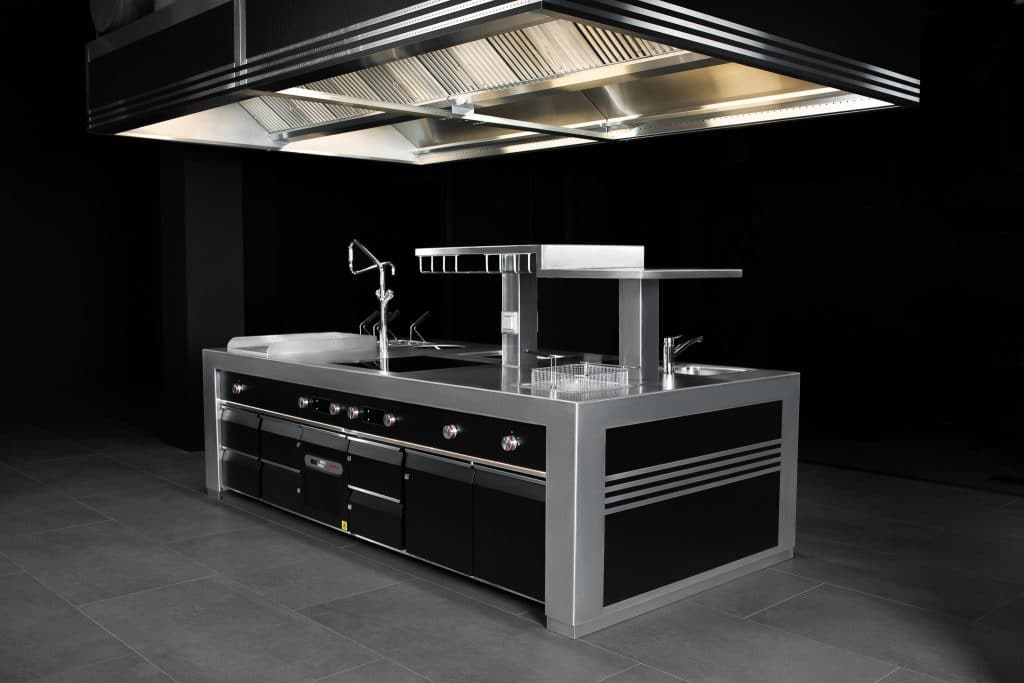 Lithuania-headquartered fabricator Novameta is expanding its product range with the launch of its first cooking suite.
Two years in the making, the range is a professional, height-adjustable cooking island.
The island suite is designed to deliver a convenient, quick, and effective work space for a large team. The product features a variety of components, including different types of grill, induction hobs, induction woks, deep fat fryer and others.
Novameta CEO Mindaugas Jonuškis said the company has been always successful in offering complex, customised solutions to satisfy its customers' needs: "The latest professional cooking island is further proof of that. The cooking island is the company's latest flagship product that will be proposed on target markets.
"Our strategy focuses on complex projects rather than series manufacturing. This is what makes us different in Europe as we are able to produce customised, very complex kitchen projects within a short time period. This experience and specific expertise enables us to think about the next stage, i.e. the manufacture of professional cooking islands."
Jonuškis revealed the germination of the idea: "We have been considering manufacturing professional cooking islands for some time. The first steps were only made in 2019 during the Host trade fair held in Milan. We had to manufacture a standard island and a complex 5-metre long customised island for the trade fair, with the two forming a cooking top and frying island. The customers who saw this solution encouraged us to launch our own cooking islands.
"This was when the development of the new product began. We cooperated with our Swiss and Italian partners, whose integrated, high-quality components can be found in our new product.
"Despite the fact that it is a premium product and its development was very costly, we did not suspend investments when the pandemic began. On the contrary, we made additional investments in experienced specialists who arrived on the market, and these specialists contributed to our innovations. Our decisions justified themselves later when restaurants reopened—we can offer an exclusive product to them."
Jonuškis reported that more than €200,000 was invested to create the first sample island. "A professional cooking island requires a lot of investment. It is a truly luxurious product which is ordered by top hotels, Michelin restaurants and large kitchens," he said.
"A lot of expertise is also required to start manufacturing the islands. We have been thinking about this product for as many as 20 years, since we began operating. These islands consist of a variety of complex technological solutions and specific features that can only be implemented by experienced, highly qualified engineers.
"For instance, our cooking island stands out not only with its unique design, but also with its ergonomic solutions. It is height-adjustable, meaning that several kitchen shifts can use it. This is something that chefs appreciate.
"We can also customise our island based on a customer's specific needs; we can customise the size, components, hygiene standards, colours, and logos. Even the smallest parts of Novameta's cooking island can be customised, and the island is very easy to maintain and boasts longevity and premium quality."
According to Jonuškis, the price of a product of this type on the market is €10,000-€200,000. Novameta plans to manufacture several dozen cooking islands in the first year and some of these will be intended for international markets.

Added:  20 September, 2021