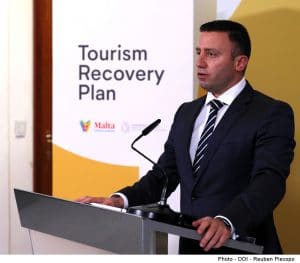 The Minister for Tourism and Consumer Protection Clayton Bartolo has launched Malta's Tourism Recovery Plan through which a number of action points will be put in place in the coming weeks and months as Malta starts preparing for the gradual opening of the tourism sector from the beginning of June.
The tourism recovery plan for the local industry involves a funding injection of around € 20 million to help recuperate "the sector hit most by the Covid-19 pandemic" and help those struggling in the tourism industry.
Minister Bartolo announced a number of schemes will be launched which target different aspects of tourism in Malta and Gozo. Among them, the schemes will aid tourism sectors that work with individual tourists, sectors that deal with tourists with long-term visits to the island, conference travel, English language schools, sports tourism, diving and the organisation of events and festivals.
"Malta will be gradually welcoming tourists back to our country from the beginning of next June. This period has been agreed with the Public Health Authorities together with all parts of the tourism sector," claimed Bartolo.
The Minister explained that the first markets that Malta will be opening will be the European ones, including the UK market, as these countries are expected to have satisfactory vaccination levels by the beginning of June.
He also announced that 18 airlines will be flying to Malta in summer, four of which are new airlines. These numbers are equivalent to 70% of the airlines that were operating to Malta back in 2019. "We need to make sure that connectivity to our country remains a priority", the Minister said.
Together with airlines, cruise liners will also continue their service this summer, with no less than 34 port calls scheduled until the end of June.
As part of a planned aggressive advertising campaign to attract tourists to Malta, Minister Bartolo mentioned new brand partnerships which will be launched with Tripadvisor, Expedia, Trivago and Lastminute.com.  "Malta Tourism Authority will also embark on new campaigns to target more tourists, with a special focus on the UK," claimed Bartolo.
"The success of this plan does not only depend on the government, but it also depends on every single one of us", he said. "We will be at the forefront of coming out of this pandemic and we will be stronger than we ever were before".