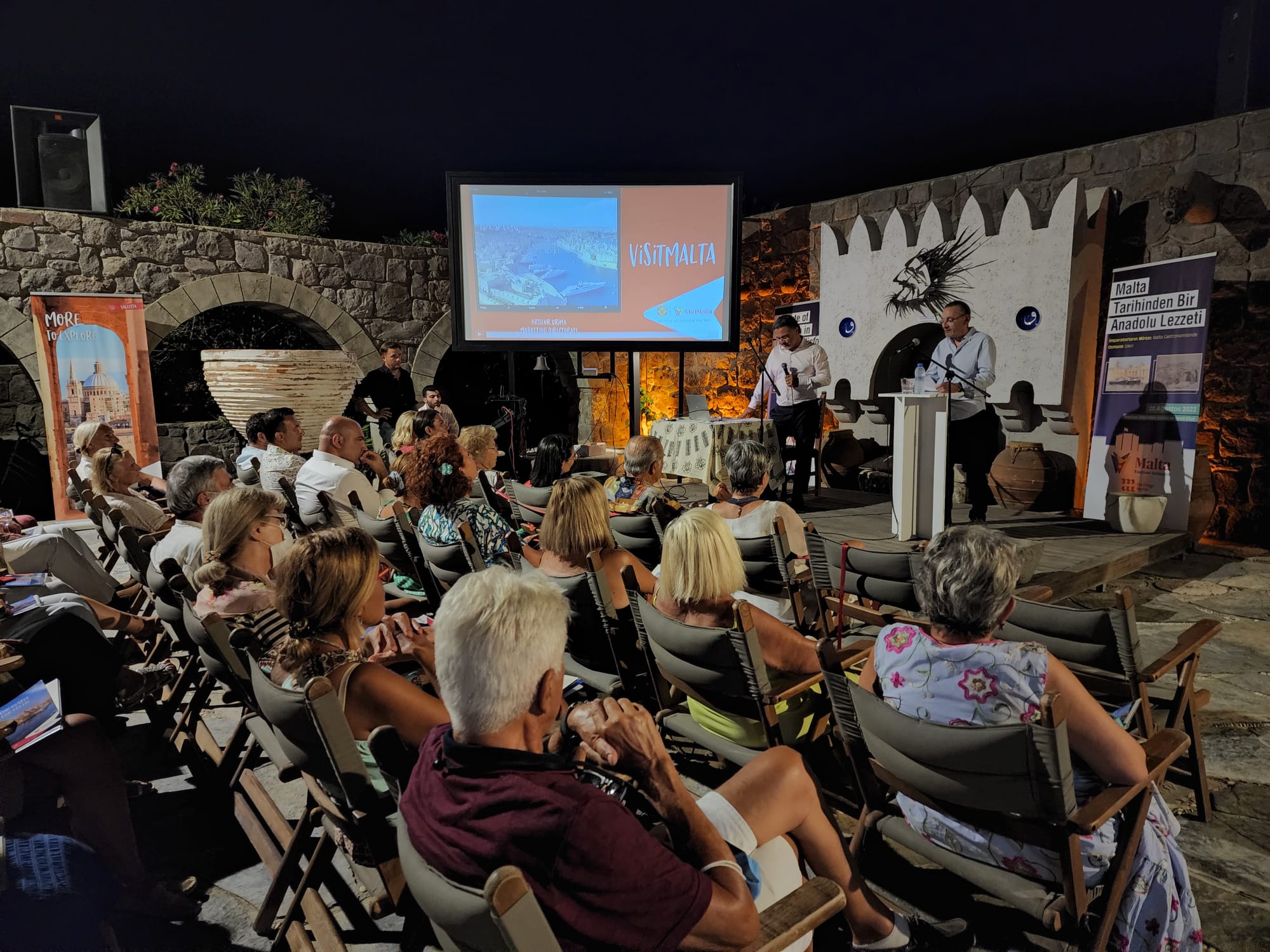 Added 22 November 2022
Dibeklihan Culture and Arts Village hosts 'A Taste of Anatolia in Maltese History'
This summer, the Malta Tourism Authority and Heritage Malta hosted an unforgettable evening in Bodrum, one of Turkey's most popular tourist seaside resorts. The promotional event attracted a very exclusive audience of well-travelled individuals from all over Turkey, who seek to experience the heritage of the countries they visit.
The Malta Tourism Authority, represented by Mr Arthur Grima, Senior Marketing Manager,  introduced the Maltese islands to the audience, highlighting the richness of Maltese history and culture. The audience was presented a 'Taste History' experience through cocktails prepared according to recipes compiled from historical archives by the Heritage Malta team. The documented recipes and the stories behind these cocktails were aptly described by Mr Liam Gauci, Heritage Malta Senior Curator.
The event called "A Taste of Anatolia in Maltese History", was held in Bodrum Dibeklihan Culture and Arts Village on Saturday, 20th August, and was also attended by H.E. Dr Theresa Cutajar, Ambassador of Malta in Ankara, and Ms Nevin Salman, Head of Turkey UNESCO World Heritage Travellers Association.
Through the educational and entertaining video presentations by Arthur Grima and Liam Gauci, the guests learned about Malta's cultural tourism offer, heard stories of long gone days and also enjoyed a taste of the beverages consumed at the time.
Speaking of the event, Arthur Grima said, "it was an opportunity to share a part of our cultural heritage with a very exclusive audience of travellers who seek to learn about the destinations they plan to visit."
Liam Gauci said, "Taste History seeks to spur on such exchanges to bring together some of Malta's key assets such as gastronomy and history, while sharing them with a wider audience."
"Malta's tourism prospects are based on the principles of quality and sustainability. Having the Malta Tourism Authority sustaining its reputation as a successful marketing vehicle is truly encouraging to make sure that the Maltese islands remain competitive on the world stage," outlined Minister for Tourism Clayton Bartolo.
MTA Chief Executive Officer added that "the high profile audience that attended the joint event in Bodrum are themselves influencers in Turkish society. This promotional cultural activity is in line with MTA's strategy in Turkey to target identified social demographics that can generate high level quality tourism to the Maltese islands all year round."