Horeca Webinar – What Are You Doing to Attract Guests?
Wednesday 29 July : 08:30 – 09:30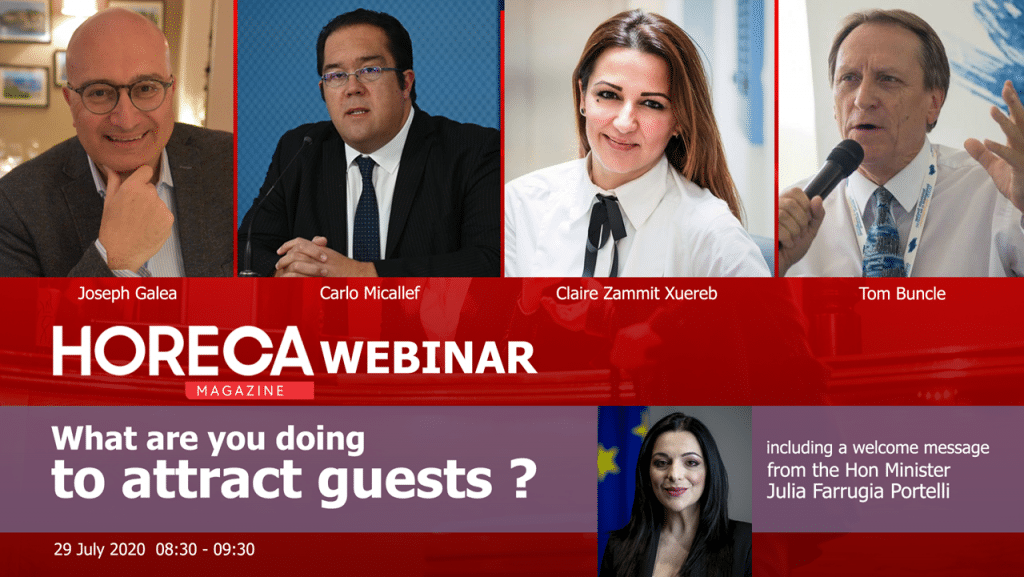 The first Horeca Malta webinar, entitled "What are you doing to welcome guests?" was held on Wednesday 29 July 2020.
The webinar examined how the hospitality industry is trying to come out of the current COVID crisis – what is being done and what still needs to be done – to address the situation and attract tourists to Malta and guests to our hotels.
After nearly a month since the airport's reopening, the Horeca webinar will assess and analyse the impact for Malta. Initial results and indicators have not been overly negative, as the hospitality industry comes to terms with the new era with cautious optimism
The webinar started with a message from Julia Farrugia Portelli, Minister for Tourism & Consumer Protection, whilst other speakers were:
Joseph Galea – Founder, JG Tourism Solutions
Carlo Micallef – Chief Marketing Officer & Deputy CEO, Malta Tourism Authority
Claire Zammit Xuereb – Hospitality Director, AX Group
Tom Buncle – Managing Director, Yellow Railroad Ltd
The discussion was moderated by Terence Mirabelli, Editor of Horeca Malta Magazine.
Watch full webinar video here.
.
Click here to see Joe Galea's intervention during the webinar
Click here to see Claire Zammit Xuereb's intervention during the webinar
Click here to see Carlo Micallef's intervention during the webinar
Click here to see Tom Buncle's intervention during the webinar