Horeca Webinar – Budget 21: The Right Vaccine for the Hospitality Industry?
Tuesday 20 October : 15:00 – 16:00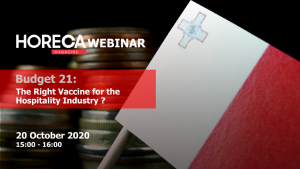 Horeca Malta organised another webinar entitled "Budget 21: The Right Vaccine for the Hospitality industry?" on Tuesday 20th October.
The annual budget has always been a keen discussion point to our local economy. Every year it is awaited with great anticipation. However, the interest this year is possibly higher than at any other time. In the past few months several mini-budgets were needed to ensure the economy could withstand the challenges brought about by COVID-19. Now the country needs plans and initiatives to guide it to a new period of sustainable growth.
The hospitality industry is possibly the sector that needs the most support to come out of the current situation. Expectations are high, but will the budget be able to deliver the right mix of support and incentives to kick-start the sector again?
The day after the presentation of the budget our panel of experts reviewed the measures and initiatives put forward by the Finance Minister and evaluated whether these are the right tonic to make a comeback.
The webinar included messages from Robert Arrigo, Opposition Tourism Spokesperson and Gavin Gulia, MTA Chairman. Other panellists were:
Joe Muscat – Chief Executive Officer, Gozo Tourism Association
Reuben Buttigieg – President, Association of Catering Establishments
Roderick Grech – Managing Director, BCMS Business and Finance Consultants
The discussion was moderated by Terence Mirabelli, Editor of Horeca Malta magazine.
Watch full webinar video here.
.
Click here to see Joe Muscat's intervention during the webinar
Click here to see Reuben Buttigieg's intervention during the webinar
Click here to see Roderick Grech's intervention during the webinar
Click here to see Hon Roberto Arrigo's intervention
Click here to see Gavin Gulia's intervention (Audio clip)